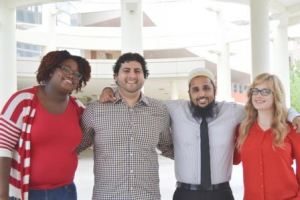 GOALS AND MISSION
Our main goal is to develop leadership in academia, government, and industry nationally and globally. The importance of global scientific, social, and cultural interaction and the demands of the dynamic, ever-changing global healthcare economy have been strongly emphasized in our undergraduate and graduate programs. The research in our department focuses on three main areas, neural, cognitive, and rehabilitation engineering, biomedical imaging, and bionanoscience.
ADMISSION REQUIREMENTS
All prospective students interested in joining the Biomedical Engineering Undergraduate program must apply through the Office of Admissions as well as meet the requirements set by the Cullen College of Engineering.
For questions related to the curriculum or program goals, students may contact the Associate Director for Academic Programs.
WHY UH BIOMEDICAL ENGINEERING?
Distinguished faculty that are focused on mentoring and developing leaders in the field of BME
Proximity to the world's largest medical center
Over half of undergraduate upperclassmen participated in research
Past graduates have continued their education by joining some of the most distinguished Graduate Schools, Medical Schools and Dental Schools
Located within a dynamic city, filled with culture, history, and activities for every passion
INFORMATION SESSIONS
The College of Engineering hosts monthly information sessions for students considering a major in the College of Engineering. The sessions will cover information regarding external transfers, internal transfers, readmission, and admission requirements. Information Session schedules can be found here.