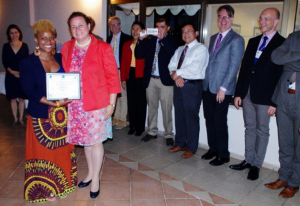 Nyisha Hamilton, business administrator for the Cullen College's biomedical engineering department, was recently recognized at the 6th US-Turkey Advanced Study Institute's banquet celebration. The Advanced Study Institute aims to further stimulate interdisciplinary research and collaboration among engineers, mathematicians, computer scientists and medical researchers. This year's event focused on the challenges and opportunities of global health care and presented lectures on the latest developments from Brain Research through Advancing Neurotechnologies (BRAIN), p-medicine and Bio Big Data (BBD.)
As the coordinator for this year's lecture series, Hamilton was responsible for producing the technical program and implementing logistics to ensure the event went off without a hitch. To recognize her tireless efforts and outstanding dedication, Hamilton was presented with a certificate and gift from the distinguished speakers, including the event's keynote speaker, Danish National Science Foundation's president Thomas Sinkjaer.
The 6th US-Turkey Advanced Study Institute was sponsored by the National Science Foundation and held on June 22-26, 2015 in Izmir, Turkey.