Research
Engineering medicine to save lives and ensure good health of future generations.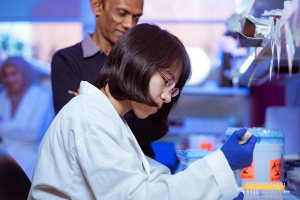 Discover • Innovate • Accelerate
Combining engineering and medicine to advance scientific discoveries, medical interventions, health, diagnosis, treatment, therapies, and medical technologies; we are engineering life sciences in ways never done before. 
Facilities & Laboratories
Housed in the Science and Engineering Research Center (SERC) building, and Health and Biomedical Buildings 1 and 2, the Biomedical Engineering facilities are modern with state-of-the-art research laboratories and research equipment. Visit us and see some of our premier facilities.
Centers & Consortia
Central to our Department is a culture of collaboration within and outside engineering. Our faculty are members of UH's Health Research Institute and interact with UH's Medical School and the Colleges of Pharmacy and Optometry. They have fostered and are nurturing strong relationships with the Texas Medical Center Hospitals and their educational institutions and other regional and national centers and consortia that are focused on biomedicine, bioengineering, health, and life sciences.
For Undergraduate
All Biomedical Engineering students are encouraged to participate in undergraduate research.
For Graduate
The Biomedical Engineering program provides research oppurtunities to well qualified graduate students.
Theses and Dissertations
Learn more about our masters and PhD students and their research topics.