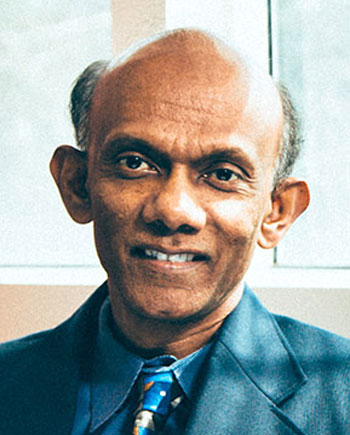 Chandra Mohan, M.D., Ph.D.
Hugh Roy and Lillie Cranz Cullen Endowed Professor

Office Location: SERC 2004
Email:
cmohan

[at]

central [dot] uh [dot] edu
Following his medical training in Pathology and Rheumatology at the National University of Singapore and the Singapore General Hospital in Singapore, Dr. Mohan undertook his doctoral thesis work focusing on the cellular immunology of lupus at Tufts University, Boston. His post-doctoral training focused on the genetic analysis of murine lupus. As an independent investigator, his laboratory's research efforts have concentrated on elucidating the cellular, molecular, and genetic players leading to murine lupus nephritis, with corresponding translational studies in human lupus nephritis. His more recent work has focused on translating findings from basic biology towards the early diagnosis of end-organ involvement in autoimmune diseases. Dr. Mohan's ongoing studies are aimed at tapping leads from proteomic platforms to mine new biomarkers and targets in chronic rheumatic diseases and selected cancers, and to apply the latest bioengineering technologies to advance the management of these ailments.
In his recent tenure as an endowed Professor of Medicine at UT Southwestern Medical Center, Dr. Mohan held the MGee Chair in Arthritis Research and the Walter and Helen Bader Professorship in Autoimmunity. He currently holds the Cullen Distinguished Professorship at the University of Houston, in Houston, TX. Dr. Mohan is an elected member of the American Society of Clinical Investigation and the Henry Kunkel Society. He has published ~250 articles, largely in the area of autoimmunity and biomarkers.
Awards and Honors:
1993: Postdoctoral Fellowship, National Arthritis Foundation, USA
1996: Irvington Postdoctoral Fellow, Irvington Institute for Immunological Research, USA
1998: New Investigator Award, Clinical Immunology Society, USA
1998: Arthritis Investigator Award, National Arthritis Foundation, USA
1998: Career Award in Biomedical Sciences, Burroughs Wellcome Fund, USA
2000: Pfizer-Scholl Young Investigator Award, American Association of Immunologists, USA
2004: Elected member, American Society of Clinical Investigation, USA
2005: Henry Kunkel Young Investigator Award, American College of Rheumatology, USA
2006: Elected member, The Kunkel Society, USA
2006: Helen & Walter Bader Endowed Professor, UT Southwestern Medical Center, Dallas, TX
2007: Director, FOCIS Center of Excellence, UT Southwestern Medical Center, Dallas, TX
2008: Director, Center of Research Translation in SLE, UT Southwestern Medical Center, Dallas, TX
2010: McGee Chair in Arthritis, UT Southwestern Medical Center, Dallas, TX
2010-2013: Best Lecturer Teaching Award, UT Southwestern Medical Center, Dallas, TX
2013: Cullen Distinguished Chair in Biomedical Engineering, University of Houston, Houston, TX
Research Interests:
OMICs-driven research is exploratory in nature, and seeks to interrogate the entire molecular landscape, with the hope of uncovering key pathways or nodes that are aberrant in a disease. Comprehensive profiling using multiple "omics" platforms in our laboratory has yielded novel insights on a wide spectrum of diseases, including autoimmune diseases and cancers. Listed below are key areas of research in MOHANLAB (http://mohanlab.bme.uh.edu/research):
I. Identifying novel biomarkers using proteomics and metabolomics:
    Ia. Screening of blood, urine, stools, saliva, CSF and other body fluids for biomarker proteins, using various targeted proteomic
         platforms
    Ib. Engineering higher sensitivity diagnostic platforms for the identification of low-abundance proteins, using electrochemiluminescence
    Ic. Identification of metabolite biomarkers using global metabolomics in lupus
    Id. Design of point-of-care technologies for home-monitoring of disease biomarkers
    Ie. Identification of novel peptoid ligands for biologically important molecules
    If. Identification of novel autoantibodies in autoimmune diseases using protein arrays bearing 130, 2500 or 19,000 proteins.
    Ig. Biomarker mining from big OMICS datasets using various computational algorithms
II. Defining the role of ALCAM/CD6, BANK1, bradykinins and other molecules in lupus, lupus nephritis, immune activation and inflammation
III. Imaging of end-organ disease in lupus and systemic autoimmunity, using PET-CT, optical imaging and OCT/OCE (details and collaborators are listed at http://mohanlab.bme.uh.edu/ research)
IV: Improved technologies for diagnosing lupus nephritis pathology, including urine biomarkers, machine learning algorithms and near-infrared imaging (details and collaborators are listed at http://mohanlab.bme.uh.edu/research)
V: Emerging Pilot Projects include non-invasive skin-patch monitoring of biomarker molecules, analysis of biomarkers in breath condensates, microfluidic devices for the isolation of specific immune cells, GI-targeted nanoparticle delivery of drugs, characterization of immune cells in 3D splenoids, etc. Details & collaborators are listed at http://mohanlab.bme.uh.edu/research
Selected Publications:
MOHANLAB PUBLICATIONS
Please click on these publication topics: