Faculty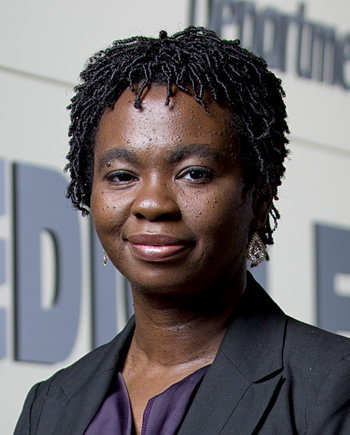 Elebeoba E. May

Research Associate Professor

Office Location

SERC 2003

Email

eemay

[at]

central.uh.edu
Education
Ph.D. Computer Engineering, North Carolina State University, Raleigh, NC
M.S. Computer Engineering, North Carolina State University, Raleigh, NC
B.S. Computer Engineering, North Carolina State University, Raleigh, NC
Courses
Mathematical Methods in Biomedical Engineering (BIOE 6300)
Awards and Honors
Technology All Star Award, 2008 Women of Color Research Sciences and Technology Awards Conference, 2008
Guest Editor for IEEE Engineering in Medicine and Biology Magazine's special issue entitled "Communication Theory, Coding Theory, and Molecular Biology." Jan./Feb. 2006
Outstanding Young Scientist or Engineer Award, 2003 Women of Color Research Sciences and Technology Awards Conference, 2003
Ford Foundation Dissertation Fellowship for Minorities, 2001 to 2002
National Science Foundation Minority Graduate Research Fellowship, 1998 to 2001
Research Interests
Dr. May's research interests include: large-scale simulation and analysis of biological pathways and systems; use and application of information theory, coding theory, and signal processing to the analysis of genetic regulatory mechanisms; design and development of intelligent biosensors. Her lab develops multi-scale theoretical and empirical models in order to understand biological mechanisms that impact the dynamics and outcome of host-pathogen/microbial community interactions.
Selected Publications
T. Oprea, E. May, A. Leitao, A. Tropsha. Computational Systems Chemical Biology, in Chemoinformatics and Computational Chemical Biology. 2011.

E. May, R. Schiek. BioXyce: An engineering platform for the study of cellular systems. IET Systems Biology Journal, 3(2):77-89, March 2009.

E. May, Dolan P, Crozier P, Brozik S., Manginell M., Towards de novo design of deoxyribozyme biosensors for GMO detection. IEEE Sensors Journal, 8(6):1011-1019. June 2008.

E. May. Error Control Codes and the Genome, in Genomics and Proteomics Engineering in Medicine and Biology, pp 173-208, January 2007.

E. May, M. Vouk, and D. Bitzer.An Error-Control Coding Model For Classification of Escherichia coli K-12 Ribosome Binding Sites. IEEE EMB Magazine, 25(1):90-7, January 2006.

E. May, M. Vouk, D. Bitzer, and D. Rosnick. Coding Theory Based Models for Protein Translation Initiation in Prokaryotic Organisms. BioSystems Journal, 76(1-3):249-60, 2004.

E. May, M. Vouk, D. Bitzer, and D. Rosnick. An Error-Correcting Code Framework for Genetic Sequence Analysis, Journal of the Franklin Institute, 341(1-2):89-109, 2004.